GenICam Software Package
Enables quick development of applications conforming to the EMVA GenICam standard
GenICam Software Package is a software IP that fully complies with GenICam standards. Adopting this software IP, users can easily develop their application software on GenICam.
GenICamis a standard formulated by the EMVA (European Machine Vision Association).  GenICam provides a common API to control different camera interfaces such as GigE Vision, USB3 Vision, CoaXpress TM, and etc. 
Features

Compliant with EMVA GenICam standard
Flexible design that allows selection of different interfaces (GigE Vision, USB3 Vision, etc.) without changing application software.
Compliant with GenICam GenTL standard (allows operation using GenICam compatible third-party applications)
Specific features of GigE Vision interface

Connection of multiple GigE Vision cameras to a single host PC. Achieves 995 Mbps maximum transfer rate for each camera
Packet re-transmission, chunk data transfer
Specifications
Compliant with EMVA GenICam Standard Version 2.0
Compatible Interfaces

GigE Vision Standard Version 1.2/2.0
USB3 Vision Standard Version 1.01 (Scheduled)
Embedded Vision (Scheduled)
Supported Operating Systems
Microsoft ®  Windows ®  7 Professional SP1 64Bit
Microsoft ®  Windows ®  10 Pro 64Bit
Linux (Scheduled)
(* Please  contact  for information about other operating systems.)
Deliverables
GenICam software (Binary)
Sample application (Source)
User's manual, etc.
Evaluation Environment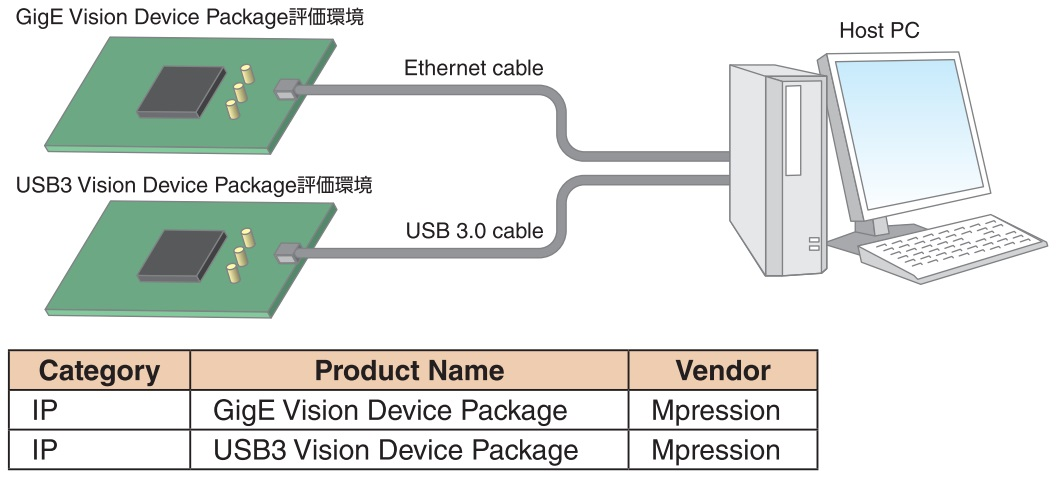 Software Configuration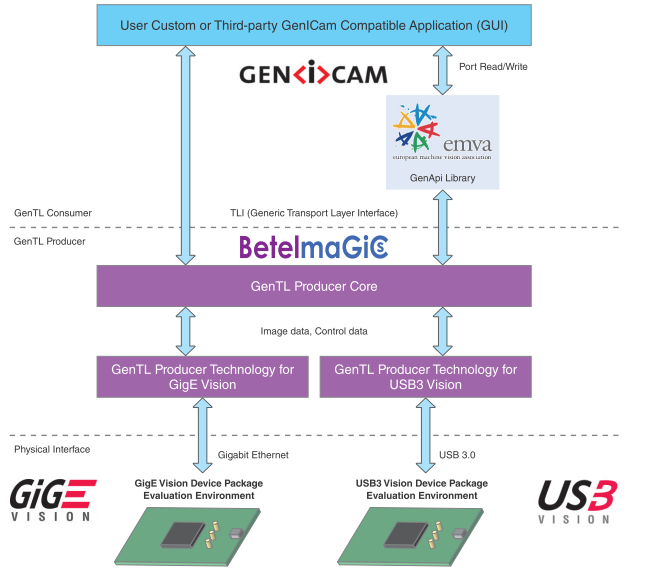 GenApi Library
GenApi Library is provided by EMVA. It controls camera description files acquired from devices
GenTL Producer Core
This software IP complies with GenICam GenTL standards. Applications access hardware via GenApi or this interface
GenTL Producer Technology

For GigE Vision
Block that includes GigE Vision specific processes
For USB3 Vision
Block that includes USB3 Vision specific processes
All software required by the GenICam standard is provided, so users can focus on application development.
Downloads