Lattice Semiconductor provides smart connectivity solutions powered by their low power FPGA, video ASSP and IP products to the consumer, communications, industrial, computing, and automotive markets worldwide. Founded in 1983 they focus on low power, small form factor FPGA and CPLD and related programmable bridging products.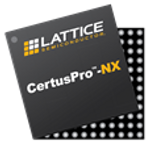 Low-power general purpose FPGA family with 10G SERDES, small packages, LPDDR4 support and high on-chip memory. Built on Lattice Nexus platform using low-power and highly reliable 28 nm FD-SOI technology.

Low-power general purpose FPGA family with up to 40K Logic Cells, industry-leading I/O count in small packages, with support for PCIe and GigE (SGMII). Built on Lattice Nexus platform using low-power and highly reliable 28 nm FD-SOI technology.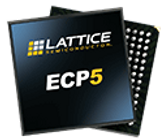 With a focus on compact, high-volume applications, Lattice optimized ECP5 for low cost, small form factor and low power consumption.
These characteristics make ECP5 ideal for delivering programmable connectivity to complement ASICs and ASSPs.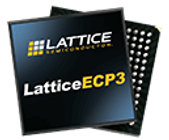 LatticeECP3 was designed to offer an efficient FPGA with the benefits of SERDES. Need PCIe, HDMI, CPRI, JESD204, GbE or XAUI? No problem. When performance requirements are high, and size, weight or power is constrained, LatticeECP3 is perfect.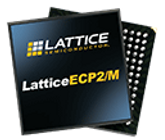 With up to 95K LUTS, up to 5.3 Mbit block and distributed RAM, the LatticeECP2/M families integrate capabilities previously only found on higher cost FPGAs.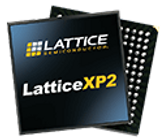 LatticeXP2 devices combine up to 40K LUTs with non-volatile Flash cells to enable instant-on performance across a feature-set optimized for high-volume, low-cost applications.
Lattice Avant-E™ is a high performance, compact, low power mid-range FPGA, built using the 16nm FinFET Avant platform. It enables intelligence at the edge for automotive, compute, communications and industrial applications.

​
Features:
Up to 500k Logic Cells, 36 Mb of embedded memory and 1800 - 18x18 multipliers (7200 - 8x8 multipliers)
Lowest power: Up to 2.5x lower power than competitive FPGAs in similar density
Packages as small as 11x9 mm (200k LCs) or 15x13 mm (500k LCs)
AI optimized DSP block enables 18x18 multipliers that can be split into four 8x8 multipliers
Fast configuration: I/O configures in 10ms, and full configuration for 500k LC in 60 ms
Available in Commercial and Industrial Grades
Lattice Avant™ 16nm FinFET platform is made for small form factor mid-range FPGA families and industry leading low-power. The platform features class leading 25 Gb/s SERDES, hardened PCI Express and external memory PHY interfaces, and high DSP counts for the latest AI/ML and computer vision algorithms. The Avant™ platform offers best in class reliability and security to suit a wide range of applications.

Built on the Lattice Nexus platform, CrossLink-NX FPGA, featuring 10 Gbps MIPI D-PHY bandwidth, provides best-in-class power and performance for Embedded Vision and Edge AI applications.

CrossLinkPlus FPGA features integrated flash memory, a hardened MIPI D-PHY and high-speed I/O for instant-on and flexible on-device programming capabilities. It provides world-class MIPI bridging solution for low power Embedded Vision applications.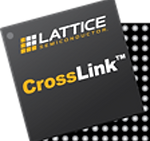 CrossLink combines hardened high-speed video interfaces, flexible high-speed IO, and IP for low power video bridging applications supporting LVDS, SLVS, SubLVDS, OpenLDI and RGB interfaces.
World's Smallest Form Factor FPGAs
iCE40 UltraPlus ML/AI Low Power FPGA
Programmable solution that combines flexible I/O, a configurable architecture, and low power operation in a small form factor. Offering high performance "best-in-class" co-processor capable of highly parallel computing while simultaneously adding high levels of connectivity and support for a wide range of I/O standards and protocols.
iCE40 Ultra / UltraLite - Smallest, Lowest Power FPGA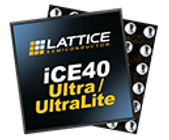 The iCE40 Ultra / UltraLite, the world's most integrated mobility focused FPGA, brings you unsurpassed integration at breakneck development speed. It allows customers to upgrade current products or create completely new capabilities, while reducing power, cost, BOM, and size.
iCE40 LP/HX/LM - Low-power, high-performance FPGA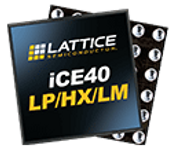 With iCE40 LP/HX/LM FPGAs you can create ingenious mobile products while staying within your cost, power, size and schedule targets. These devices allow you to rapidly customize solutions with off-the-shelf chips. This means maximum product differentiation with minimum cost and effort.
Complete Solution for Key Applications

Lattice sensAI stack for rapidly implementing FPGA based flexible inferencing solutions optimized for the Edge.

The Lattice mVision solutions stack includes everything users need to evaluate, develop, and deploy FPGA-based embedded vision applications, such as sensor connectivity, bridging, aggregation, and image signal processing.

The Lattice Automate™ solution stack provides Industrial Automation system designers with tools needed to evaluate, develop, and deploy FPGA-based, RISC-V software programmable Industrial Automation applications, such as robotics, scalable multi-channel motor control with predictive maintenance, real-time Industrial Networking, and Local to Cloud Networking with OPC UA support.

The Lattice Sentry solutions stack includes everything system designers need to evaluate, develop, test and deploy a NIST SP800-193-compliant, FPGA-based Platform Firmware Resiliency (PFR) Root of Trust.
More FPGA, ASICs & IPs Partners