ADIN1100 : Robust, Industrial, Low Power 10BASE-T1L Ethernet PHY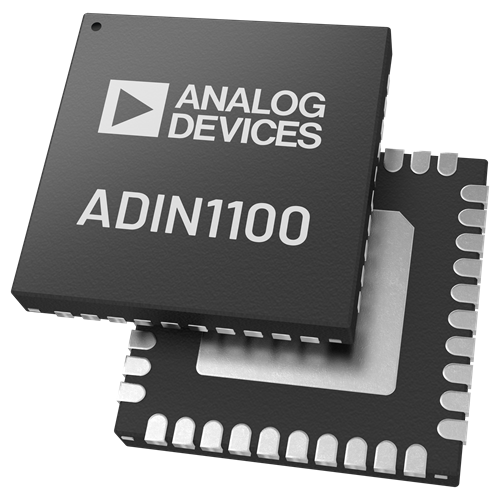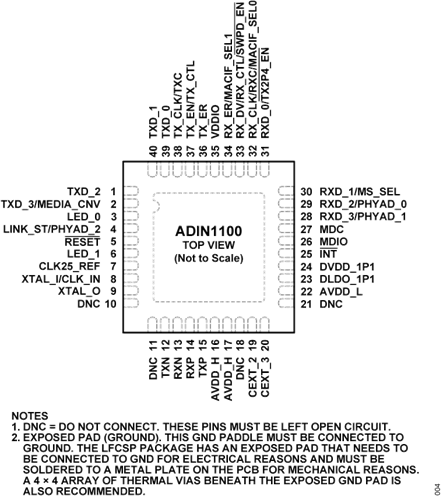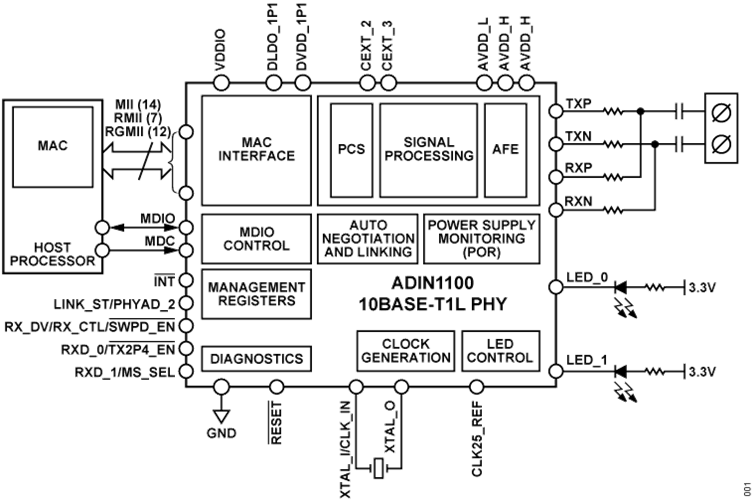 The ADIN1100 is a low power, single port, 10BASE-T1L transceiver designed for industrial Ethernet applications and is compliant with the IEEE® 802.3cg-2019™ Ethernet standard for long reach 10 Mbps single pair Ethernet (SPE). The ADIN1100 integrates an Ethernet PHY core with all the associated analog circuitry, input and output clock buffering, the management interface control register and subsystem registers, as well as the MAC interface and control logic to manage the reset, clock control, and pin configuration.

The ADIN1100 supports cable reach of up to 1700 meters with autonegotiation enabled and has ultra low power consumption of 39 mW.

The PHY core supports the 1.0 V p-p operating mode and the 2.4 V p-p operating mode defined in the IEEE 802.3cg standard and can operate from a single power supply rail of 1.8 V or 3.3 V, with the lower voltage option supporting the 1.0 V p-p transmit voltage level.

The ADIN1100 has an integrated voltage supply monitoring circuit and power-on reset (POR) circuitry to improve system level robustness.

The MDIO interface is a 2-wire serial interface for communication between a host processor or MAC and the ADIN1100, thereby allowing access to control and status information in the PHY core management registers. This interface is compatible with both the IEEE 802.3 Standard Clause 22 and Clause 45 management frame structures.
Process Control
Factory Automation
Building Automation
Field instruments and switches
10BASE-T1L IEEE Standard 802.3cg-2019 compliant

Cable reach up to 1700 m with 1.0 V p-p and 2.4 V p-p
Supports 1.0 V p-p and 2.4 V p-p transmit levels
Supports intrinsic safety applications
Diagnostics

Cable fault detection with TDR
Link quality indicator with MSE
Frame generator and checker
Multiple loopback modes
IEEE test mode support

MII, RMII and RGMII MAC interfaces
MDIO Management Interface
Unmanaged configuration using pin strapping including
25 MHz crystal or external clock input (50 MHz for RMII)
Single or dual supply with 1.8 V or 3.3 V operation
3.3 V, 2.5 V, or1.8 V MAC interface VDDIO supply
Integrated power supply monitoring and POR
EMC test standards

IEC 61000-4-4 EFT (±4 kV)
IEC 61000-4-2 ESD (±4 kV contact discharge)
IEC 61000-4-2 ESD (±8 kV air discharge)
IEC 61000-4-5 surge (±4 kV)
IEC 61000-4-6 conducted immunity (10 V/m)
IEC 61000-4-3 radiated immunity (Class A)
EN 55032 radiated emissions (Class B)

Small package: 40-lead, 6 mm x 6 mm LFCSP
Temperature range

Industrial: -40°C to +85°C
Extended:-40°C to +105°C
Evaluation Kits EVAL-ADIN1100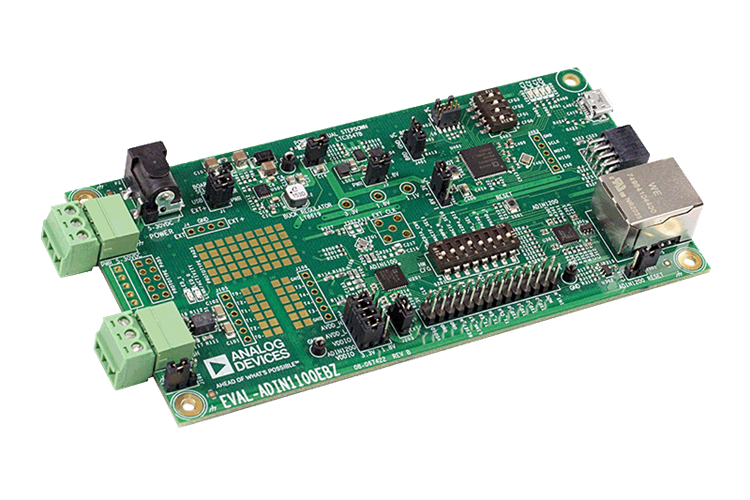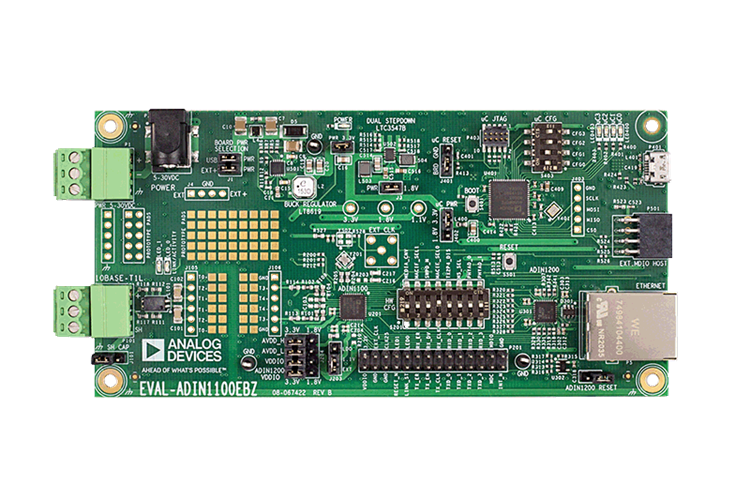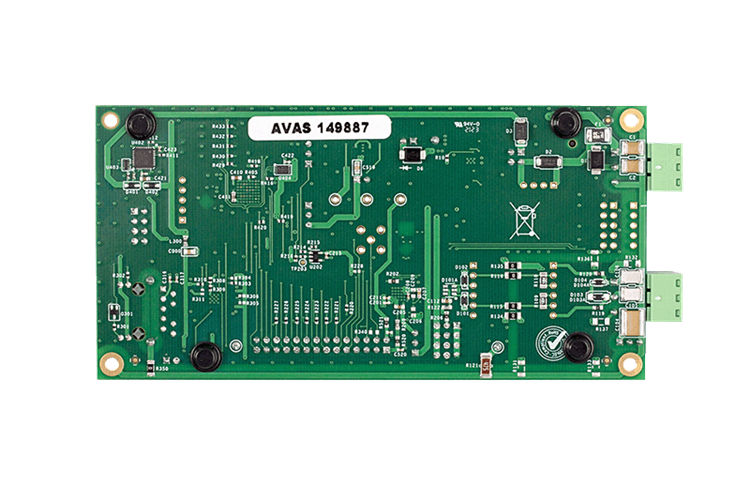 The EVAL-ADIN1100EBZ is a flexible platform enabling quick evaluation of the ADIN1100 robust, low power 10BASE-T1L PHY. The EVAL-ADIN1100EBZ provides 10 Mbps single pair Ethernet (SPE) connections with devices across 1.7 km of cable.

The evaluation board offers two modes of operation for maximum flexibility. Connected to a PC via USB port, the full set of ADIN1100 register settings and features such as link quality monitoring and diagnostics can be accessed with the ADIN1100 GUI software.


Alternatively, the EVAL-ADIN1100EBZ board can operate in stand-alone mode where it is configured by setting hardware configuration links and switches. On-board LEDs provide status indication.

The ADIN1100 data (MII, RMII, and RGMII) and management (MDIO) interfaces are accessible on header connectors for easy connection to an external host controller.

A small prototyping area and test points are provided for experimentation with alternative cable connection topologies including isolation transformers and/or power coupling inductors.

The platform can perform as a 10BASE-T1L to 10BASE-T media converter. This feature enables connection to other devices (demonstration boards or custom prototypes) with a 10BASE-T1L Ether-net port and conversion of the data to standard Ethernet, which is accessible via the RJ45 connector.

Full details about the ADIN1100 are available in the ADIN1100 data sheet, which must be consulted when using the EVAL-ADIN1100EBZ.
User friendly access to all ADIN1100 features

(GUI) software on PC or standalone hardware configured operation
Flexible power supplies and prototyping options
On-board ARM Cortex-M ADuCM4050 microcontroller
10BASE-T1L to 10BASE-T media converter