Predictive maintenance for the power generation market
In power generation plants around the world, millions of critical low-voltage motors operate unmonitored. This can reduce their efficiency and result in unplanned and costly downtime and interrupted power production. However, this can be avoided when predictive maintenance measures are adopted to monitor the motors in the plants.
Predictive maintenance to ensure energy production
According to the BehrTech article, about 70% of industries do not know when motors need maintenance or replacement. This creates a lot of maintenance material sitting in stock and can lead to unplanned downtime in the plant. In addition, an unplanned outage can cost between $30,000 and $50,000/hour in the industrial environment.
In the same study, it was identified that industrial environments with predictive maintenance initiatives reduce overall maintenance costs by 5 to 10%. Therefore, Macnica ATD Europe offers the ADI OtoSense solution in Europe. With it, it is possible to reduce up to 80% of unplanned downtime of motors in the industrial plant.
"ADI OtoSense's SMS device allows us to efficiently monitor the motors of important machines in our power generation process. These include gas turbine cooling fans, hydraulic oil control pumps or closed-loop cooling pumps. Thus, we optimize the measurement of manual vibrations, save maintenance man-hours, and avoid operator access to dangerous locations or elevations."
Gonzalo Gracia De La Rosa, Naturg Maintenance Plant Manager.
See below how this intelligent solution for predictive maintenance is already bringing positive results in the power generation market.
ADI OtoSense solution applied in a power generation plant
One of the main difficulties when monitoring motors and assets in power generation plants is that they are usually located in huge areas. In addition, these spaces often have extreme environmental conditions and temperature fluctuations.
These environmental conditions make it difficult to measure the sound and vibration of the motors and to identify their level of functionality and possible failures. All these details make traditional continuous monitoring impractical.
The ADI OtoSense smart sensor provides an unprecedented predictive maintenance solution for power generation plants. Here are some of the functions it performs:
solves the problem of continuous health monitoring of critical induction motors;
provides real-time insights for rapid decision making by site managers;
generates greater cost savings through in-depth motor health analysis.
The ADI OtoSense solution does not replace experts. Rather, it leverages their experience and knowledge of engines to help the OtoSense SMS solution recognize problems early on. As a result, engine efficiency and productivity increase, positively impacting a company's bottom line. See below how it was applied in a power generation plant.
The customer's main objective was to monitor the engines of a power generation plant to increase productivity and efficiency.
The harsh environment of a power plant, like many industrial environments, presents several challenges for implementing monitoring systems, such as:
observing sound and vibration of equipment, the main indicators of wear and failure, in large, hot, noisy and not always safe locations;
reducing the time spent by the maintenance team technicians, who need to walk around the factory every day to detect problems in the machines;
constant monitoring of large and complex machines with limited redundancy;
reduction of plant shutdowns, caused by failures in secondary equipment, such as pumps and fans.
After installing the ADI OtoSense solution, the predictive and proactive maintenance initiatives were implemented. With this, continuous monitoring of primary and secondary assets was performed, such as:
cooling water pump;
soot blower;
gear box
vacuum pump;
gas turbine structure;
bearing cooling fans.
With the data collected and analyzed by the ADI OtoSense solution, the following results were achieved:
enhanced operational credibility;
optimized application of maintenance resources;
decrease in unplanned maintenance;
reduction in downtime that generates high costs;
reduction in the number of operators in the field.
In addition, the ADI OtoSense smart sensor can also generate other positive results for the power plant, such as:
reduced maintenance costs;
reduced unscheduled downtime and catastrophic failures
extension of the period between overhauls
reduction of route-based activities and optimization of the application of maintenance resources;
more efficient spare parts and inventory management
increased equipment life;
optimized engine efficiency;
improved OEE (Overall Equipment Effectiveness).
The image below illustrates where ADI OtoSense smart sensors were installed in the power plant. To learn how to have these results in your industry, click here and contact us.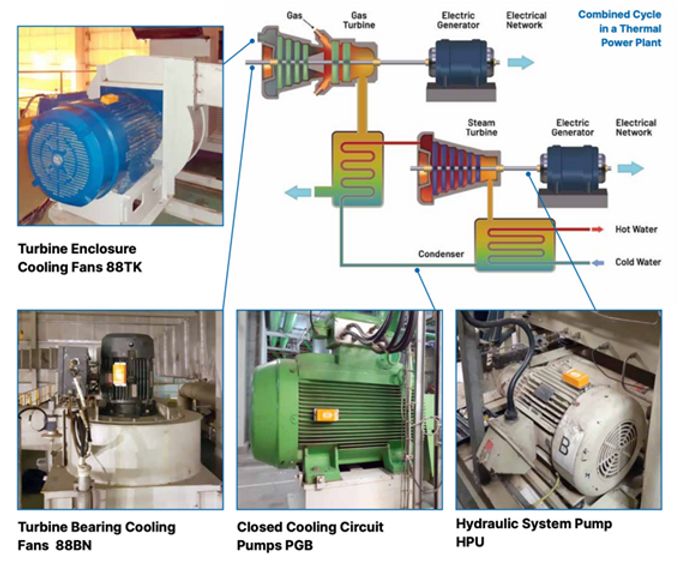 ADI OtoSense intelligent sensor installed in important areas of power generation plants. Source: ADI OtoSense
More benefits from the ADI OtoSense solution
As you have seen, the application of the ADI OtoSense solution brought several positive results to the power plant. But it does not stop there: see, below, some more benefits that this solution can provide to your company.
Advanced diagnostics for prioritized action items
Electrical and mechanical failures are diagnosed at their onset.
The severity level helps prioritize the required maintenance.
Recommendation on required actions.
Detection technologies for high-quality data analysis
Wide bandwidth, multi-axis vibration sensors.
Magnetic field sensors to monitor the electrical health of the engine.
Temperature sensors to monitor ambient and engine housing temperature.
Machine learning that models engines during operation
Combining and interpreting high quality sensing data for more credible diagnostics.
Automated model creation agnostic to engine brand.
Custom model that learns engine operation and its interaction with the load.
More ADI OtoSense Smart Sensor Advantages
Like the ADI OtoSense solution, the ADI OtoSense intelligent sensor also brings other advantages when applied in an industry:
Single platform for monitoring all key plant assets.
Sample signals at 6.2 kHz every 20 minutes, which allow identification of various mechanical and electrical faults with high credibility.
Detection and identification of damage, enabling efficient predictive maintenance.
Quick and easy installation and configuration, as it requires no additional wiring or gateways and works with most motors, regardless of brand.
 
Our solution can help you implement predictive maintenance in your power plant or other industrial environments. To learn more about it, contact us at marketing.mae@macnica.com.