MPression develops technology for the machine vision industry. We strive to provide a superior package of solutions leveraging expertise in key areas such as FPGAs, processors, and interface devices, together with system-level technologies such as power and clock trees. We complete our offerings with expertise in signal integrity, intellectual property, and software support.

While electronic designs are becoming more complex, engineers are required to design products on ever shortening schedules and at lower costs, without compromising performance or quality. Macnica Vision delivers the necessary environment for those engineers to accelerate their electronics designs while maintaining higher quality and performance. We will help you stay one step ahead at the system level.
CMOS Sensor Interface IP Device Package

Today Sony CMOS image sensors and FPGAs are used in nearly all machine vision cameras, with Sony SLVS-EC, the interface of choice to handle high-speed, long-distance communication. It has become especially popular because it uses an embedded clock technology that's tolerant of lane-to-lane skew.
Now, with our SLVS-EC Rx IP, Macnica Vision is offering an intellectual property package that makes board-level design for SLVS-EC very easy. It's the toolkit you need for faster, better, easier and more profitable camera design.
Compliant with SLVS-EC Specification Version 1.2/2.0
Available both for Intel and Xilinx FPGAs
Supports various functions defined by the SLVS-EC Link layer
Supports Byte-to-Pixel conversion for various lane-configurations
Supports Header analysis and Payload error detection
Encrypted RTL (Verilog HDL)
Reference design
Simulation environment (For ModelSim)
User's manual, Reference manual, Simulation manual
Intel Cyclone V GX
Intel Cyclone V SX (v1.2)
Intel Cyclone 10 GX
Intel Arria 10 GX
Intel Arria 10 SX (v1.2/2.0)
Xilinx Artix-7 (ECC not supported)
Xilinx Kintex-7
Xilinx Kintex Ultrascale
Xilinx Kintex Ultrascale+
Microchip PolarFire (Planning)
Please contact us about other devices.
Camera Interface IP Device Packages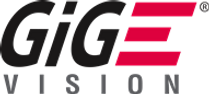 Now you can develop GigE Vision-compliant products (both 1-gig and 10-gig) much more quickly and economically using this advanced intellectual property package from Macnica Vision. The GigE Vision Device Package includes everything you need to transfer image data from a camera or image sensor to other devices over Gigabit or 10-Gigabit Ethernet networks in real-time. It's perfect for the design and manufacturing of highly reliable, high-resolution machine vision cameras, medical imaging systems, and other devices.
Highly reliable, high-precision image transmission using the GigE Vision and 10GigE Vision protocols
995 Mbps or 9.5 Gbps maximum effective transfer rate
Comprehensive reference environment
GigE Vision Compliant, certified by the Automated Imaging Association (AIA)
Interoperability qualified with various GenICam application vendors
Supports IEEE1588 PTP (Precision Time Protocol) as Master and Slave
Compliant with GigE Vision Standard Version 1.2/Version 2.0
Supports IEEE1588-2008 PTP for 1GigE. (Under development for 10GigE)
Compliant with EMVA GenICam Standard Version 2.0
Supports Packet Re-transmission
Other functions

Chunk data transfer, GigE Vision action commands, Timestamp, Packet delay
Image data (RGB, YUV, etc.) and RAW data transfer
1GigE: Intel Cyclone V
10GigE: Intel Cyclone 10 GX
Encrypted RTL (Verilog HDL)
GigE Vision Device FW Library for Nios II processors
Reference environment (sample hardware design, firmware application)
User's manual

Macnica Vision makes it easy to develop cameras and other devices that will transfer image data from a camera to a PC with a frame grabber via a simple-to-install, 75Ω coaxial cable at up to 6.25 Gbps per lane. CoaXPress, defined by JIIA (the Japan Industrial Imaging Association) is one of the newest and fastest-growing interface standards for machine vision. The CoaXPress 1.1 & 2.0 Device Packages give you everything you need to develop products using the standard, from an encrypted RTL to a software library that will help you support GenICam, the software API for CoaXPress and other machine vision standards.
Compliant with CoaXPress Version 1.1.1 and Version 2.0
Data transfer rate up to 6.25Gbps/lane (version 1.1.1) / 12.5Gbps/lane (version 2.0)
Supports up to 4 Connections
Supports up to 4 Streams
Supports GenICam
Certified and registered under the JIIA Interoperability Test
* Please contact us about other devices.
Encrypted RTL (Verilog HDL)
Reference design
Firmware for CoaXPress/GenICam including XML generator
Documents

Enables high speed interface compliant with HDMI 2.0 standard
Bring your HDMI 2.0-compliant products to market quickly and easily using this advanced intellectual property package from Macnica Vision. Our HDMI 2.0 Tx IP / Rx IP package gives you everything you need to provide your products with the transmit/receive functions of the HDMI 2.0 standard using various Intel FPGAs. Depending on the FPGA you use, you'll be able to transmit and receive 4K and 2K video with up to 24-bit RGB color at up to 60 frames per second, at a maximum transfer rate of 18 Gbps.
Enables HDMI 2.0 transmission and reception with the latest Intel FPGAs
18 Gbps maximum transfer rate
Supports RGB 24 bit 4k2k@60p transmit and receive
Meets all HDMI licensing requirements; compliance confirmed by third-party testing
Supports DVI Mode
Supports Deep Color (30 bit/36 bit/48 bit) Mode
Supports Display Data Channel (DDC), Status and Control Data Channel (SCDC) control
Supports Hot Plug Detect, +5V Power Drive control
Supports Audio 
Cyclone V GX (Transfer Rate Limited)
Cyclone 10 GX
Arria V GX (Transfer Rate Limited)
Arria 10 GX
Please contact us about other devices.
Encrypted RTL (Verilog HDL)
Reference design
Simulation environment (For ModelSim)
User's manual, Reference manual, Simulation manual
Versatile Machine Vision Camera Development Kit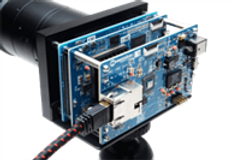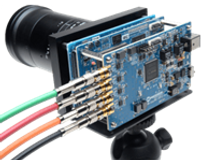 EasyMVC, our Easy Machine Vision Camera Kit, helps hardware engineers and software developers evaluate machine vision technology and build prototype cameras. At its most powerful, the kit can be used for pre-purchase evaluation of our intellectual property cores for SLVS-EC, GigE Vision, USB3 Vision, and CoaXPress.

The kit consists of an image sensor board, an FPGA board, and an interface board, plus a choice of cutting-edge CMOS image sensors, FPGAs and interface cards. Choose from the models listed below. The EasyMVC Sony IMX420MS/CS C10 HDMI U3V Kit, for example, gives you a Sony IMX420 CMOS sensor card, an Intel Cyclone 10GX FPGA Card, and an interface card ready for the USB3 Vision and HDMI 2.0 standards.
Other kits include the components, software and intellectual property you need to evaluate and develop for CoaXPress 1.1.1 or 2.0, 10GigE Vision, or GigE Vision, and you can mix or match the boards that you want.
Evaluate key technologies making up machine vision cameras:

Cutting-edge CMOS image sensors
Various machine vision interfaces
IP cores that Macnica offers

Make it easy to develop prototypes of machine vision cameras

FPGA design
Firmware development
Development of Host PC software
More!
The IMX421 offers 2.86 Mpixels, capturing HD images at frame rates up to 371fps, and a staggering 780fps max at lower resolutions.
 
The IMX420, with its 7.10 Mpixels is a significant step up, with many applications now requiring more resolution, either to see finer details, or to be able to image a much larger area, and maintain good resolution over the whole area, this sensor is a perfect fit.
The IMX530 for the Easy MVC kit is releasing later this year. The IMX530 offers an impressive 24.55Mpixels. It is a next generation Pregius S part, with the signal processing stacked on the backside illuminated sensor it creates a very compact sensor for the resolution.
Mix and match the boards to produce the
best combination for your project!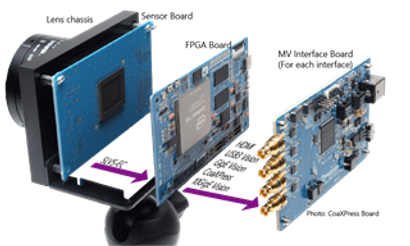 More FPGA, ASICs & IPs Partners