Retrocausal - Pathfinder Apollo
The Pathfinder Apollo is a disruptive solution brought to Europe by Macnica ATD Europe.
The solution was developed by Retrocausal, which is a leader in the market of intelligent solutions applied to the industry.
The solution significantly reduces errors in manual and repetitive work on the assembly line through intelligent monitoring. The platform is composed of an Artificial Intelligence (AI) enabled camera that, when detecting any error in the performance of tasks by operators on an assembly line, triggers audible and visual alerts. 

​In addition, the Pathfinder Apollo continuously performs time studies on assembly processes, enabling greater control and management over the manual activities performed in a manufacturing unit.
Retrocausal's patented computer vision technology analyzes complex manual activities to help operators avoid assembly errors and improve training. 

In addition, prescriptive analytical tools are provided to help industrial engineers perform root cause analysis and optimize the process.

The platform adds individual workstation statistics to the analysis dashboard. These statistics include average cycle time, throughput, error rates, as well as highly detailed measurements that are related to step time and errors.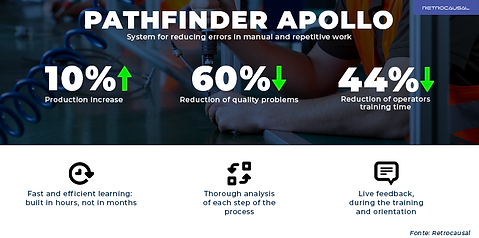 This information helps industrial engineers and manufacturing supervisors identify non-value-added activity, find the cause of assembly problems, and optimize production. 
The Pathfinder Apollo also offers the option to automatically store video records of individual cycles on your assembly line. These records are identifiable by product serial number.

When a defective product reaches the end of the line or if a recall event occurs, these records prove extremely valuable for improving the process and minimizing the extent of damage.

Fast and easy operator training
The system also offers a video-based tool that allows operator training on a stand-alone basis.
Here the demonstration videos used to train the Artificial Intelligence algorithm are combined with voice recognition technology, assisting new or temporary employees.

Greater control and management of activities
The Pathfinder Apollo is a solution that is revolutionizing the assembly line in the industry, as it automates the checking of manual and repetitive processes, enabling greater control and management of activities.
Furthermore, the solution's installation and deployment process is extremely simple, as well as its integration with existing manufacturing systems. 

Want to know more about Retrocausal?
Request your Retrocausal whitepaper to learn more about their technology and use cases.
More Artificial Intelligence Partners