Macnica provides motor-specific predictive maintenance services in Asian countries : Mpression Smart Motor Sensor in Taiwan
Reducing downtime and optimizing maintenance costs for customers in the manufacturing industry -
Macnica, Inc. (Headquarters: Yokohama City, Kanagawa Prefecture; President: Kazumasa Hara; hereinafter Macnica), a total service and solution provider in semiconductors, networks, cybersecurity and AI/IoT, has launched the Mpression Smart Motor Sensor, a solution comprising products developed by Analog Devices, Inc (NASDAQ: ADI; Headquarters: Massachusetts, USA; CEO: Vincent Roche; hereinafter: Analog Devices) in Taiwan. A subsidiary of Macnica,  Answer Technology Co., Ltd. sells Mpression Smart Motor Sensor in Taiwan.
Mpression Smart Motor Sensor can be applied to industrial automation, predictive maintenance, and monitoring, such aspharmaceutical, food & beverage, energy, water utilities, paper and other industries. 
Macnica Smart Motor Sensor
This is an OEM solution from Macnica, consisting of hardware equipped with an ultra-high-precision MEMS sensor developed by Analog Devices, and dedicated software. Hardware installation is performed by attaching a battery-powered sensor to the cooling fin of the motor, and initial settings are configured by the smartphone app. Once in use, AI machine learning is automatically initiated, and an AI model to detect anomalies will be automatically generated after a period. This allows the vibration, temperature, and magnetic field data to be collected by the sensor to be checked via PC, smartphone or tablet with alerts sent in the event of an abnormality. 
There are 9 detectable types of motor anomaly, each analyzed with an independent normal value of 0-10, allowing predictive maintenance to minimize catastrophic failure and downtime, without any special knowledge of vibration analysis or AI.
- 9 Types of Motor Anomaly -
| | | | |
| --- | --- | --- | --- |
| Power system |   | Motor shaft / Balance | Alignment |
| Stator winding (insulation diagnostics) |   | Eccentricity (air gap) | Cooling system |
| Rotor |   | Bearing | Mechanical wear |
■Image : Sensor device attachment and dashboard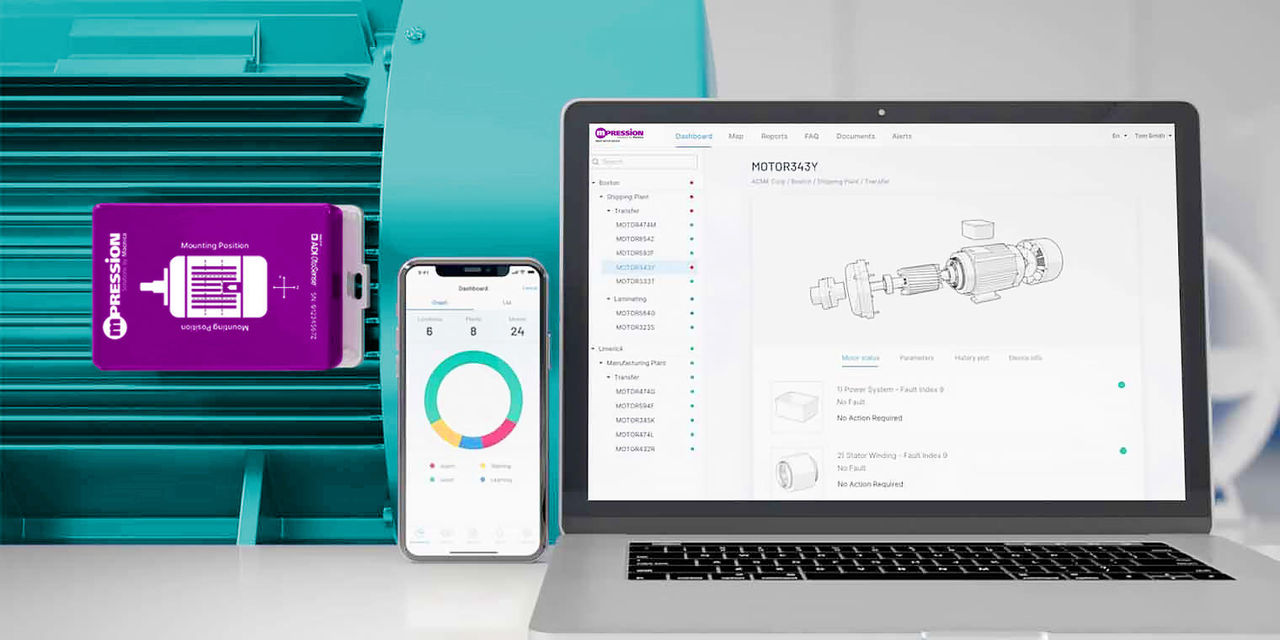 ■3 features of smart motor sensors

Timing for maintenance, repair and overhaul can be optimized looking at the data and performed during regular operating hours, thereby reducing maintenance costs while preventing downtime. Optimizing maintenance and overhaul leads to optimal motor operation, and efficiency in manufacturing processes where motors in the factory cannot be stopped, or where stopping would have an impact on business. Macnica has systematized the Digital Synergy Factory (DSF), a service for next-generation smart factories that utilizes the knowledge and latest technologies in the manufacturing industry and will extend its support to the field of predictive maintenance with the provision of the Macnica Smart Motor Sensor. For further information, please see the website https://www.macnica.com/apac/anstek/en/products-support/products/adi/_otosense_/
* Company and product names mentioned in the text are trademarks or registered trademarks of Macnica and other companies. Information contained in this release including products, prices, and specifications, is current as of the date of publication. Please note that this is subject to change without notice.
Analog Devices, Inc. (NASDAQ: ADI) operates at the center of the modern digital economy, converting real-world phenomena into actionable insight with its comprehensive suite of analog and mixed signal, power management, radio frequency (RF), and digital and sensor technologies. ADI serves 125,000 customers worldwide with more than 75,000 products in the industrial, communications, automotive, and consumer markets. ADI is headquartered in Wilmington, MA. Visit http://www.analog.com.
Since it was established in 1972, Macnica has provided leading-edge semiconductors, electronic devices, networks and cyber security products with high value-added technology. Macnica has been actively developing new businesses in the fields of AI, IoT, automated driving and robotics, based on its strength in global sourcing and strategic planning for world-leading technologies. 

With its slogan "Co.Tomorrowing", Macnica connects leading-edge technologies with 'Macnica' intelligence to provide unique services and solutions, creating social value and contributing to the betterment of future societies. Headquartered in Yokohama, Macnica's global business spans 23 countries/regions and 81 locations worldwide. For more information, please visit https://www.macnica.co.jp/en/.