【Technical】Cabin Experience & Infotainment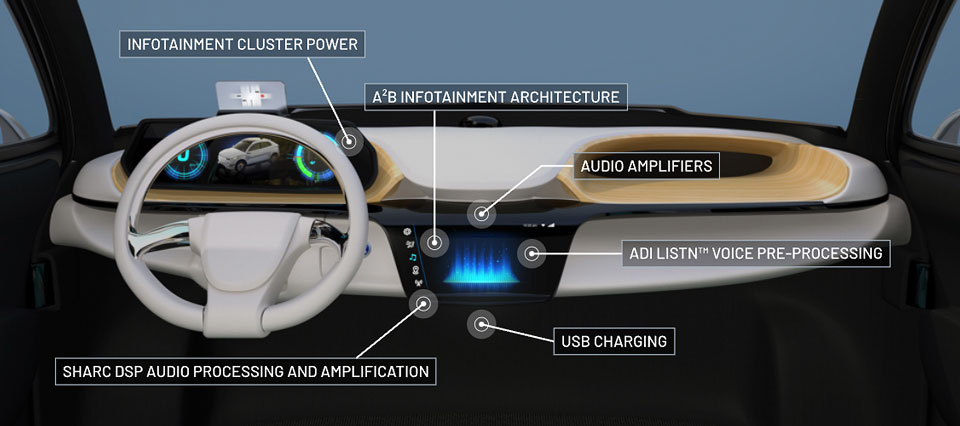 Automotive infotainment systems now provide an immersive cabin experience based on more than a decade of continual advancement driven by consumer desires and expectations. In-cabin features such as passenger entertainment, display of vehicle and environmental information, navigation systems, and wireless connectivity have driven the proliferation of electronics in vehicles.

Analog Devices, Inc. (ADI) offers a wide range of innovative cabin experience and infotainment solutions that significantly enhance the performance of these popular automotive systems. Our technology portfolio includes power management ICs, high performance and highly integrated DSPs, GMSL, audio and video converters, sensing and connectivity products, and application-specific software that enables infotainment, display, and safety related systems.
Key applications include:
Car displays
Car to cloud communications
Car audio and acoustics sensing, playback, processing, and distribution
Car to passenger experience management
Automotive Power Solutions for Cabin Experience & Infotainment
Designing electronic systems for automotive applications presents many challenges: space is highly restricted, the operating temperature range must be wide, noise must be minimized, battery transients must be tolerated, and quality levels must be high. Since integration levels are increasing, this in turn creates a need for power-efficient ICs.

ADI's automotive power management offerings include micropower monolithic buck solutions that provide small form factors, high efficiency, and low noise/EMI to deliver safe operation in high voltage systems. These ICs help automotive power systems survive harsh load dump and cold-crank conditions.
High Performance
High Efficiency, Low IQ,
Low EMI
Trusted Partner and Joint Definition
Scalable High Power Density
Small Solution Size and BOM Optimization
Automotive SerDes Solution, GMSL, for Cabin Experience and Infotainment Applications
ADI's Gigabit Multimedia Serial Link™ (GMSL) serializer and deserializers (SerDes) provide simultaneous delivery of high resolution video, audio, and control over a single STP or coax cable. GMSL infotainment display ICs offer full flexibility across all video interfaces for automotive interconnect, enhanced functional safety and encryption features, and EMC/EMI performance, while providing automatic compensation for cable aging and temperature changes over the automobile's lifetime.