Macnica ATD Europe and Prophesee Sign Agreement to Jointly Market Event-Based Vision Technology

Metavision Sensor Platform Delivers Disruptive Technology to improve Power, Performance and Efficiency for Machine Vision Applications
Chatou/France, 08 July 2021. Macnica ATD Europe and Prophesee SA announced an agreement that will see Macnica serve as an authorized distribution partner for Prophesee's innovative Metavision® event-based sensor platform throughout Europe. Inspired by the human retina and combined with advanced AI-based processing, Prophesee's patented Event-Based Vision sensor technology and intelligence software truly represents a paradigm shift in machine vision. It enables machine system developers to significantly reduce energy consumption and computational power requirements while reaching new levels of performance in a wide range of applications.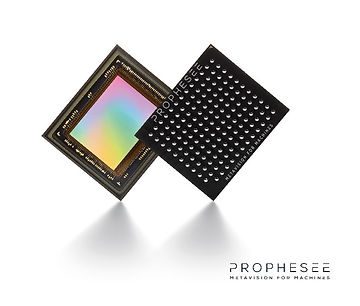 "We are thrilled to start a partnership with this highly innovative company that has many synergies with our business ecosystem and customer base, including collaboration with our long-term partner Sony. Prophesee's ground-breaking event-based technology offers valuable benefits to machine vision system developers with the capability to reduce power consumption and processing requirements, while improving overall performance. The solution has been production proven and the Prophesee Metavision platform is now conquering significant industry applications. Macnica ATD Europe is happy to pave that way for event-based vision in the industry," said Antoine Hide, General Director of Macnica ATD Europe upon contract signing.
"Macnica ATD Europe is the right partner to further accelerate the commercialization of our Event-Based Metavision sensor platform in the machine vision world. By leveraging their relationships, Macnica provides in-depth knowledge of customer needs and can offer the most suitable and advanced technology. Through this partnership we can address a wide range of industries and use cases to improve performance in application fields such as high-speed counting, vibration monitoring, spatter monitoring, calibration, and machine learning" said Luca Verre, Co-founder and CEO of Prophesee.
The Metavision platform is built on Prophesee's pioneering Event-Based Vision, which uses neuromorphic sensing and computing techniques to mimic the human eye and brain. With each pixel activating itself if it senses a change in the scene, a movement - an event, Prophesee's proprietary Event-Based approach allows for major reductions of power, latency and data processing requirements imposed by traditional vision systems. The Metavision sensor and accompanying Metavision Intelligence software suite can be used by system developers to create entire new industrial uses, including accelerating quality assessment on production lines; positioning, sensing and movement guidance for robots to enable better human collaboration; and equipment monitoring for predictive maintenance and reduced machine downtime.
Founded in 1990 as ATD Electronique, Macnica ATD Europe offers innovative components dedicated to imaging applications for the European market. Its product portfolio includes: image sensors (CCD, CMOS, InGaAs, Thermal etc.), optics, interface circuits, IPs, imaging processors, cables and OLED microdisplays. It also covers development tools and design services enabling fast and efficient realization of new high-performance camera systems for markets such as machine vision, medical, life sciences, surveillance, automotive and others. After the acquisition of the company by Macnica Inc. as of October 1, 2020 the company operates under the name Macnica ATD Europe.
For more information visit the web at www.atdelectronique.com.
2 - 6, rue Emile Pathé- Espace Lumière, Batiment 2, 78400 CHATOU - FRANCE
Ph: + 33 1 30 15 69 70
Fax: + 33 1 86 39 00 22
Vision Communications - Andreas Breyer