Digital transformation of Industry
Artificial Intelligence is increasingly present in our lives.
As the amount of data collected grows, intelligence networks become more powerful, efficient and reliable.
Thus, it is not surprising that it is a resource already consolidated in a large number of companies, from administrative sectors to the factory floor. AI is already part of robotic assembly elements and acts as an excellent partner in manual assembly processes.
According to research by Accenture, Artificial Intelligence is expected to be responsible for 40% of productivity in the next 15 years, which means that companies that use it are likely to take a significant leap forward in operations.
In addition to all this growth in productivity, artificial intelligence also allows for the development of disruptive technologies. That is, innovative ways of working on what you already have, only with much more benefits, cost reduction and optimization, for example:
Better use of data: organizations start to collect more consistent information about the most diverse processes;

Process automation: reduction in work steps and increase in productivity, resulting in better results and profitability.
As complex as this may seem, companies that do not start this industrial innovation movement will be lost in time and certainly to the competition.
Therefore, we highlight two solutions that use artificial intelligence to promote industrial innovation: Senspider, developed by Macnica itself, and Pathfinder Apollo, a partner that is already revolutionizing the market.
Senspider is essential for implementing predictive maintenance measures and Pathfinder is the right partner for the manual assembly process.
For each sector, a different "artificial intelligence"!
Senspider – A device for Predictive Maintenance
Senspider is a compact device that adds acquisition and sensing functionalities, with a robust hardware and software infrastructure prepared to process artificial intelligence and machine learning algorithms, while sending the already processed data to a server.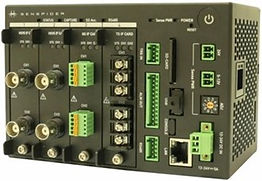 Senspider: Data acquisition and processing terminal capable of processing artificial intelligence and machine learning algorithms ideal for Industry 4.0 applications
Thus, the analysis and technology incorporated into the existing process contribute to reduce downtime and improve the efficiency of maintenance work in factories.
Predict machine failures in advance,

Avoid unexpected stops,

Replace the visual inspection of machines with data verification in an automated and real-time way.
Pathfinder –The virtual partner in manual assembly
Many processes have manual assembly steps, which, even with technological advances, cannot be replaced, but can be improved with artificial intelligence.
The Pathfinder platform monitors the manual assembly process, analyzing the real-time images collected by a camera and comparing it to the process that the artificial intelligence was trained in.
Thus, if any step is forgotten, the platform beeps and shows the forgotten step on the monitor.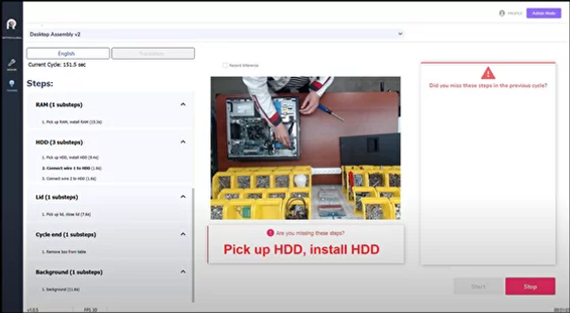 Pathfinder platform dashboard showing a missed step alert.
Errors are corrected in real time, because no matter how experienced the employee is, we are all susceptible to error.
In addition to reducing errors, the platform can be a tool to train and monitor new or temporary employees.
Pathfinder offers benefits such as:
Increase in production;

Reduction of assembly quality problems;

Reduction of operator training time;

Process improvement;

Greater control and management of activities;

Live feedback during training and orientation.
These are extremely important solutions in your factory's industrial innovation process.
Whether monitoring important production line equipment with predictive maintenance initiatives with Senspider.
Or adding artificial intelligence to the manual assembly process with the Pathfinder platform.
To learn more about these and other disruptive technologies contact us
Email: marketing.mae@macnica.com