GigaDevice Semiconductor - Flash Memory
GigaDevice is a pioneer of memory IC designer.
GigaDevice SPI NOR Flash offers 16 density options from 512Kb to 2Gb to meet the requirements of different real-time operating systems and supports 3V, 1.8V, 1.2V, and battery-powered 1.65~3.6V(WR) wide-voltage power supply; meanwhile.

Giga Device provides up to 20 different package types to enable customer design flexibility that requires different density, voltage, and package in various applications.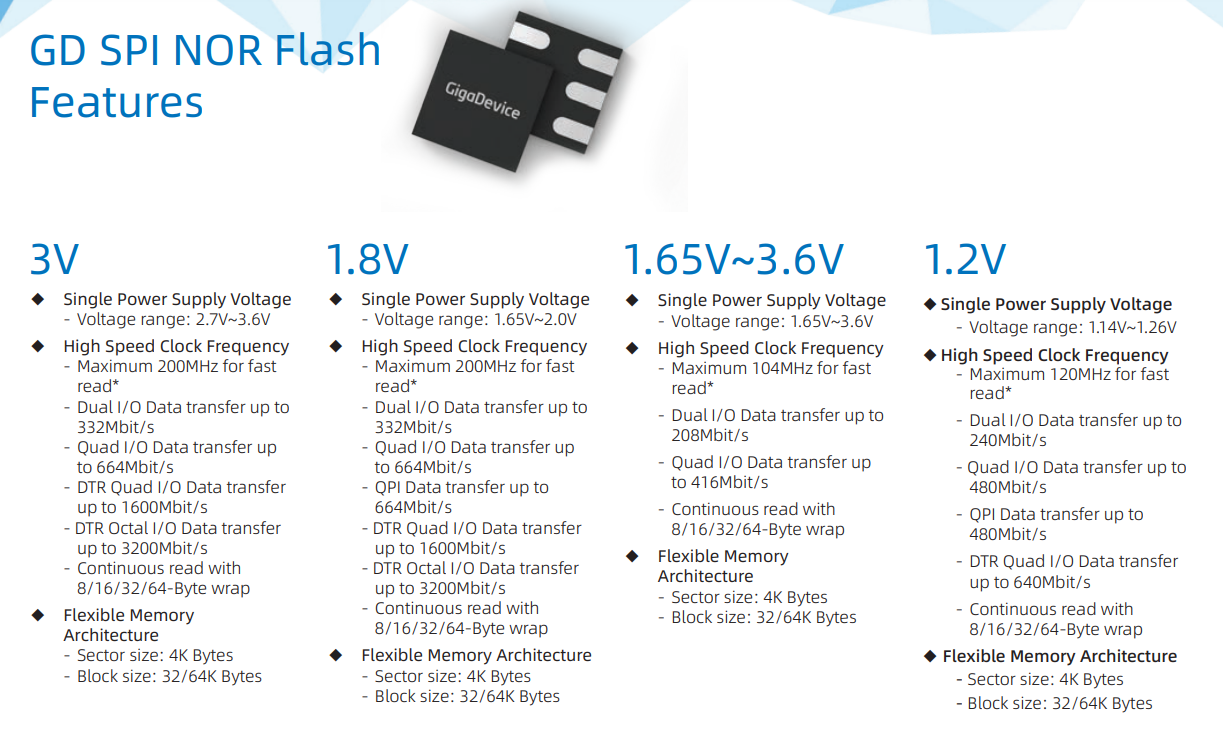 Serial NOR Flash 3V
Serial NOR Flash 1.8V
Serial NOR Flash 1.65V - 3.6V
Serial NOR Flash 1.2V
| Voltage | Density | I/O Bus | Frequency MHz | Automotive |
| --- | --- | --- | --- | --- |
| 2.7V - 3.6V | 512Kb | Single / Dual Output | 100MHz(x1), 80MHz(x2) |   |
| 2.7V - 3.6V | 1Mb | Single / Dual Output | 100MHz(x1), 80MHz(x2) |   |
| 2.7V - 3.6V | 2Mb | Single / Dual / Quad | 133MHz(x1, x2, x4) | Yes |
| 2.7V - 3.6V | 2Mb | Single / Dual Output | 104MHz(x1), 80MHz(x2) |   |
| 2.7V - 3.6V | 4Mb | Single / Dual / Quad | 133MHz(x1, x2, x4) | Yes |
| 2.7V - 3.6V | 4Mb | Single / Dual Output | 104MHz(x1), 80MHz(x2) |   |
| 2.7V - 3.6V | 8Mb | Single / Dual / Quad | 133MHz(x1, x2, x4) | Yes |
| 2.7V - 3.6V | 8Mb | Single / Dual Output | 104MHz(x1), 80MHz(x2) |   |
| 2.7V - 3.6V | 16Mb | Single / Dual / Quad | 133MHz(x1, x2, x4) | Yes |
| 2.7V - 3.6V | 32Mb | Single / Dual / Quad | 133MHz(x1, x2, x4) | Yes |
| 2.7V - 3.6V | 64Mb | Single / Dual / Quad | 133MHz(x1, x2, x4) |   |
| 2.7V - 3.6V | 64Mb | Single / Dual / Quad | 104MHz(x1, x2, x4) |   |
| 2.7V - 3.6V | 64Mb | Single / Dual / Quad | 166MHz(x1,x2,x4), 104MHz(DTR) | Yes |
| 2.7V - 3.6V | 128Mb | Single / Dual / Quad | 133MHz(x1, x2, x4) |   |
| 2.7V - 3.6V | 128Mb | Single / Dual / Quad | 104MHz(x1, x2, x4) |   |
| 2.7V - 3.6V | 128Mb | Single / Dual / Quad | 166MHz(x1,x2,x4), 104MHz(DTR) | Yes |
| 2.7V - 3.6V | 256Mb | Single / Dual / Quad | 133MHz(x1, x2, x4) |   |
| 2.7V - 3.6V | 256Mb | Single / Dual / Quad | 104MHz(x1, x2, x4) |   |
| 2.7V - 3.6V | 256Mb | Single / Dual / Quad | 166MHz(x1,x2,x4), 104MHz(DTR) | Yes |
| 2.7V - 3.6V | 512Mb | Single / Quad | 133MHz(x1, x4), 90MHz(DTR) |   |
| 2.7V - 3.6V | 512Mb | Single / Quad | 104MHz(x1, x4), 60MHz(DTR) |   |
| 2.7V - 3.6V | 512Mb | Single / Quad | 166MHz(x1, x4), 200MHz(DTR) | Yes |
| 2.7V - 3.6V | 512Mb | Single / Quad | 166MHz(x1, x8), 200MHz(DTR) | Yes |
| 2.7V - 3.6V | 512Mb | Single / Dual / Quad | 133MHz(x1,x2,x4) |   |
| 2.7V - 3.6V | 512Mb | Single / Dual / Quad | 166MHz(x1,x2,x4), 104MHz(DTR) |   |
| 2.7V - 3.6V | 512Mb | Single / Dual / Quad | 104MHz(x1,x2,x4) |   |
| 2.7V - 3.6V | 1Gb | Single / Quad | 133MHz(x1, x4), 90MHz(DTR) |   |
| 2.7V - 3.6V | 1Gb | Single / Quad | 166MHz(x1, x4), 200MHz(DTR) | Yes |
| 2.7V - 3.6V | 1Gb | Single / Quad | 166MHz(x1, x8), 200MHz(DTR) | Yes |
| 2.7V - 3.6V | 1Gb | Single / Dual / Quad | 133MHz(x1,x2,x4) |   |
| 2.7V - 3.6V | 1Gb | Single / Dual / Quad | 166MHz(x1,x2,x4), 104MHz(DTR) |   |
| 2.7V - 3.6V | 2Gb | Single / Quad | 133MHz(x1, x4), 90MHz(DTR) |   |
| 2.7V - 3.6V | 2Gb | Single / Quad | 166MHz(x1, x4), 200MHz(DTR) | Yes |
| 2.7V - 3.6V | 2Gb | Single / Quad | 166MHz(x1, x8), 200MHz(DTR) | Yes |
| 2.7V - 3.6V | 2Gb | Single / Dual / Quad | 133MHz(x1,x2,x4) |   |
| 2.7V - 3.6V | 2Gb | Single / Dual / Quad | 166MHz(x1,x2,x4), 104MHz(DTR) |   |
| Voltage | Density | I/O Bus | Frequency MHz | Automotive |
| --- | --- | --- | --- | --- |
| 1.65V - 2V | 512Kb | Single / Dual Output | 50MHz(x1), 40MHz(x2) |   |
| 1.65V - 2V | 1Mb | Single / Dual Output | 50MHz(x1), 40MHz(x2) |   |
| 1.65V - 2V | 2Mb | Single / Dual / Quad | 133MHz(x1, x2, x4) | Yes |
| 1.65V - 2V | 2Mb | Single / Dual Output | 50MHz(x1), 40MHz(x2) |   |
| 1.65V - 2V | 4Mb | Single / Dual / Quad | 133MHz(x1, x2, x4) | Yes |
| 1.65V - 2V | 4Mb | Single / Dual Output | 50MHz(x1), 40MHz(x2) |   |
| 1.65V - 2V | 8Mb | Single / Dual / Quad | 133MHz(x1, x2, x4) | Yes |
| 1.65V - 2V | 8Mb | Single / Dual / Quad | 166MHz(x1, x2, x4), 104MHz(DTR) |   |
| 1.65V - 2V | 8Mb | Single / Dual Output | 50MHz(x1), 40MHz(x2) |   |
| 1.65V - 2V | 16Mb | Single / Dual / Quad | 133MHz(x1, x2, x4) | Yes |
| 1.65V - 2V | 16Mb | Single / Dual / Quad | 166MHz(x1, x2, x4), 104MHz(DTR) |   |
| 1.65V - 2V | 32Mb | Single / Dual / Quad | 133MHz(x1, x2, x4) | Yes |
| 1.65V - 2V | 32Mb | Single / Dual / Quad | 166MHz(x1, x2, x4), 104MHz(DTR) |   |
| 1.65V - 2V | 64Mb | Single / Dual / Quad | 133MHz(x1, x2, x4) | Yes |
| 1.65V - 2V | 64Mb | Single / Dual / Quad | 166MHz(x1, x2, x4), 104MHz(DTR) |   |
| 1.65V - 2V | 64Mb | Single / Dual / Quad | 104MHz(x1, x2, x4) |   |
| 1.65V - 2V | 128Mb | Single / Dual / Quad | 133MHz(x1, x2, x4) |   |
| 1.65V - 2V | 128Mb | Single / Dual / Quad | 166MHz(x1, x2, x4), 104MHz(DTR) |   |
| 1.65V - 2V | 128Mb | Single / Dual / Quad | 104MHz(x1, x2, x4) |   |
| 1.65V - 2V | 128Mb | Single / Dual / Quad | 120MHz(x1,x2,x4) | Yes |
| 1.65V - 2V | 256Mb | Single / Dual / Quad | 133MHz(x1, x2, x4) |   |
| 1.65V - 2V | 256Mb | Single / Dual / Quad | 166MHz(x1, x2, x4), 104MHz(DTR) |   |
| 1.65V - 2V | 256Mb | Single / Dual / Quad | 104MHz(x1, x2, x4) |   |
| 1.65V - 2V | 256Mb | Single / Quad | 166MHz(x1, x4), 104MHz(DTR) |   |
| 1.65V - 2V | 256Mb | Single / Quad | 104MHz(x1, x4), 60MHz(DTR) |   |
| 1.65V - 2V | 256Mb | Single / Quad | 166MHz(x1, x4), 200MHz(DTR) | Yes |
| 1.65V - 2V | 256Mb | Single / Octal | 166MHz(x1, x8), 200MHz(DTR) | Yes |
| 1.65V - 2V | 512Mb | Single / Quad | 166MHz(x1, x4), 90MHz(DTR) |   |
| 1.65V - 2V | 512Mb | Single / Quad | 104MHz(x1, x4), 60MHz(DTR) |   |
| 1.65V - 2V | 512Mb | Single / Quad | 166MHz(x1, x4), 200MHz(DTR) | Yes |
| 1.65V - 2V | 512Mb | Single / Dual / Quad | 166MHz(x1, x8), 200MHz(DTR) | Yes |
| 1.65V - 2V | 1Gb | Single / Quad | 166MHz(x1, x4), 90MHz(DTR) |   |
| 1.65V - 2V | 1Gb | Single / Quad | 166MHz(x1, x4), 200MHz(DTR) | Yes |
| 1.65V - 2V | 1Gb | Single / Octal | 166MHz(x1, x8), 200MHz(DTR) | Yes |
| 1.65V - 2V | 2Gb | Single / Quad | 166MHz(x1, x4), 90MHz(DTR) |   |
| 1.65V - 2V | 2Gb | Single / Quad | 166MHz(x1, x4), 200MHz(DTR) | Yes |
| 1.65V - 2V | 2Gb | Single / Octal | 166MHz(x1, x8), 200MHz(DTR) | Yes |
| Voltage | Density | I/O Bus | Frequency MHz | Automotive |
| --- | --- | --- | --- | --- |
| 1.65V - 3.6V | 512Kb | Single / Dual Output | 100MHz(x1), 80MHz(x2) |   |
| 1.65V - 3.6V | 1Mb | Single / Dual Output | 100MHz(x1), 80MHz(x2) |   |
| 1.65V - 3.6V | 2Mb | Single / Dual / Quad | 104MHz (x1, x2, x4) |   |
| 1.65V - 3.6V | 2Mb | Single / Dual Output | 100MHz(x1), 80MHz(x2) |   |
| 1.65V - 3.6V | 4Mb | Single / Dual / Quad | 104MHz (x1, x2, x4) |   |
| 1.65V - 3.6V | 4Mb | Single / Dual Output | 100MHz(x1), 80MHz(x2) |   |
| 1.65V - 3.6V | 8Mb | Single / Dual / Quad | 104MHz (x1, x2, x4) |   |
| 1.65V - 3.6V | 8Mb | Single / Dual Output | 100MHz(x1), 80MHz(x2) |   |
| 1.65V - 3.6V | 16Mb | Single / Dual / Quad | 104MHz (x1, x2, x4) |   |
| 1.65V - 3.6V | 32Mb | Single / Dual / Quad | 104MHz (x1, x2, x4) |   |
| 1.65V - 3.6V | 64Mb | Single / Dual / Quad | 104MHz (x1, x2, x4) |   |
| 1.65V - 3.6V | 128Mb | Single / Dual / Quad | 104MHz (x1, x2, x4) |   |
| 1.65V - 3.6V | 256Mb | Single / Dual / Quad | 104MHz (x1, x2, x4) |   |
| 1.65V - 3.6V | 512Mb | Single / Dual / Quad | 104MHz (x1, x2, x4) |   |
| Voltage | Density | I/O Bus | Frequency MHz | Automotive |
| --- | --- | --- | --- | --- |
| 1.2V | 64Mb | Single / Dual / Quad | 120MHz(x1,x2,x4), 60MHz(DTR) |   |
| 1.2V | 128Mb | Single / Dual / Quad | 120MHz(x1,x2,x4), 60MHz(DTR) |   |