Artificial intelligence: more efficiency for your security system
With the upgrade provided by Icetana's Solution, your security system will never be the same again.
If you are responsible for or work in the security of places such as: malls, ports, airports, banks, condominiums, and construction companies, this solution is for you.
Using Artificial Intelligence (AI), cameras are trained to detect unusual events and behavior, identifying an occurrence and alerting immediately.
This real-time visibility allows your security team to act quickly and efficiently.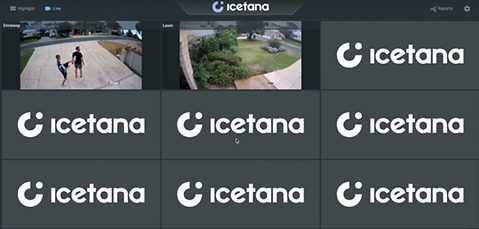 Icetana solution dashboard showing only images from cameras with suspicious movement. (Source: Icetana).
Intelligent security system
One of Icetana greatest advantages is that you don't have to change the existing security system, just adapt it.
The system's built-in AI learns around the clock about each environment, becoming smarter over time, without the need to continually define or modify rules. Icetana's solution easily learns from the existing video monitoring system.
In this way, even with a small team of security guards, prevention rates improve and security breaches decrease.
The AI ​​solution issues alerts for abnormal situations and *hides the images from security cameras with normal behavior, highlighting only suspicious situations during monitoring, which minimizes visual fatigue and generates a much faster response from the security team.
*Hidden images are saved in case it is necessary to review them.
Simple and fast installation process:
Step 1 – Icetana's Solution learns what normal environment behavior looks like.
After training the AI, the solution determines which images and events are out of the ordinary, without intrusive technology or privacy violations.
Step 2 – The solution only displays unusual situations or events of interest that are automatically flagged. In addition, the solution reduces the fatigue that the number of screens can generate in the security team.
Step 3 – As it processes images, Icetana gets smarter and increasingly delivers only important events with true potential risk.
Some advantages of the Icetana solution:
Identification of suspicious events: enabling timely intervention in advance by the security team.

Quick Video History Review: You can see 24 hours of footage in 30 minutes (even scenes that were not considered suspicious).

Easy integration with Milestone, Genetec or other existing video management systems.

Reduction of potential process violations: this can reduce near misses or help maintain production quality.

Scalable to suit the size of your video surveillance operation.

Includes LiveWall: Shows only events that need further investigation (2% of total video), reducing operator fatigue and missed events.

Reporting system that allows the identification of anomalies and the easy extraction of reports.

Minimizes server costs: supports up to 300 security cameras per server (density depends on camera resolution and frame rate).

Automatically learns and adapts: using patented technology. Icetana's solution is remodeled without new rules to configure or maintain, just analyzing everyday situations.
Do you want to know more about this solution, which will change your security system?
Contact us at marketing.mae@macnica.com