Develop Predictive Maintenance Solutions
Predictive maintenance solutions are transforming industry, bringing agility in the implementation of measures and efficiency in production. However, in many cases, it is necessary to develop your own solutions to look for the pieces of the puzzle that fit and solve your predictive maintenance problem.
Macnica ATD Europe can assist you with its portfolio of solutions for predictive maintenance. We provide ready-made solutions that collect and process data in the field, such as OtoSense, and we have a large portfolio of partners to help you develop customized solutions.
One of the main lines is Mpression, a brand that presents the solutions and technologies that the Macnica Inc. group develops for its clients around the world.
Predictive maintenance solutions
Mpression offers solutions in the form of evaluation board, development board and starter kit with ICs (integrated circuits). In addition, it counts on components from Macnica's wide range of franchised suppliers.
All products are carefully developed to ensure signal integrity, one of the problems in high-speed signals; and power consumption, a point of attention in IoT devices. To complete, another advantage of Mpression is that it makes available the design data of the products so that developers can make their own designs in less time.
See below some of Mpression's solutions.
Borax is a System on Module (SoM) that has an embedded Cyclone V SoC FPGA. With it, it is possible to accelerate the development of applications that rely on the benefits of Intel FPGA technology, such as Report-Fi, a product developed by Macnica and AQTech aimed at predictive maintenance of power generation units. Learn more here.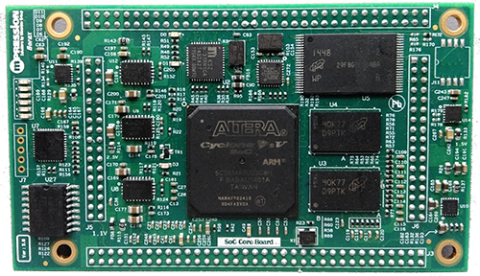 Borax SOM
The Uzuki Sensor Shield is a board developed by Macnica to connect via I2C to Yukai Engineering's Arduino and "Konashi" kits. It is an IoT device developed for predictive maintenance, which has on-board sensors such as an integrated 3-axis accelerometer, temperature and humidity sensor, proximity sensor, and UV index sensor.
These sensors allow data to be used in the IoT devices, such as:
ambient temperature;

humidity;

light luminescence;

IR and UV level;

vibration;

shock;

motion detection.