Macnica ATD Europe with own Conference Program at VISION 2021
Distribution partners with presentations and product demos
Chatou/France, 21 September 2021. Macnica ATD Europe announces that it has organized a series of conference sessions during VISION 2021 from 05-07 October in Stuttgart in a conference room close to the trade show halls. During the sessions, a selection of distribution partners from Macnica ATD Europe, namely Ambarella, Caeleste, Corning, InnerEye, Lattice, and Prophesee will hold 30 minute presentations highlighting new product demonstrations. Entrance to the presentations in conference room W1 (Congress West) is free of charge for all VISION visitors who are cordially invited to join the sessions. The detailed conference program can be viewed below: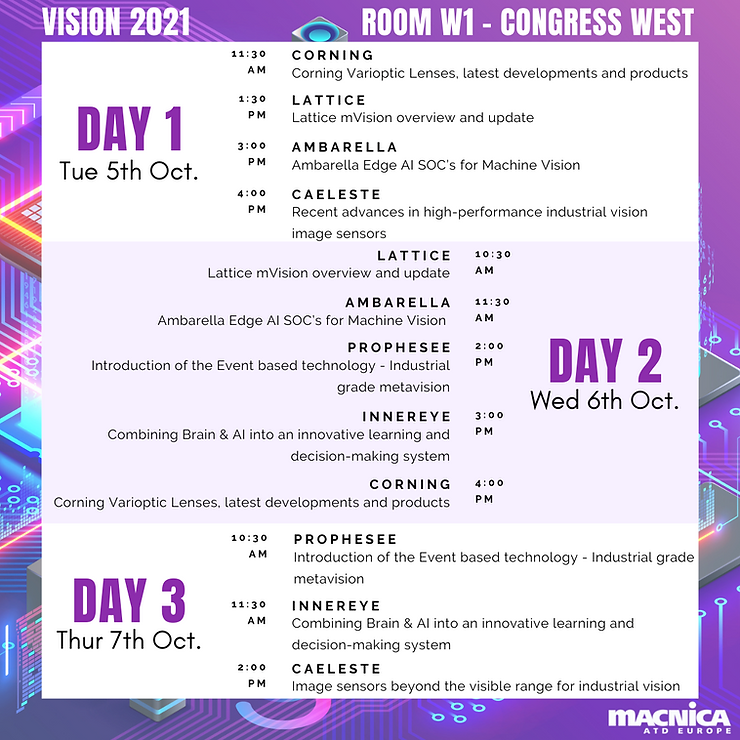 In addition, the team from Macnica ATD Europe is happy to welcome visitors at its booth 8D30 in hall 8.
Founded in 1990 as ATD Electronique, Macnica ATD Europe offers innovative components dedicated to imaging applications for the European market. Its product portfolio includes: image sensors (CCD, CMOS, InGaAs, Thermal etc.), optics, interface circuits, IPs, imaging processors, cables and OLED microdisplays. It also covers development tools and design services enabling fast and efficient realization of new high-performance camera systems for markets such as machine vision, medical, life sciences, surveillance, automotive and others. After the acquisition of the company by Macnica Inc. as of October 1, 2020 the company operates under the name Macnica ATD Europe.
For more information visit the web at www.macnica-atd-europe.com
2 - 6, rue Emile Pathé- Espace Lumière, Batiment 2, 78400 CHATOU - FRANCE
Ph: + 33 1 30 15 69 70
Fax: + 33 1 86 39 00 22
Vision Communications - Andreas Breyer