Artificial Intelligence ensures quality in manual assembly
In the last decades, industrial technologies have undergone several advances. They were the ones that made the Fourth Industrial Revolution and the use of Artificial Intelligence tools a reality. However, even with these advances, the segment still needs technologies capable of ensuring the quality of manually assembled products.
Below, understand a little more about this challenge faced by industries today. Also, learn about an Artificial Intelligence solution that can solve this problem.
The challenge of quality on manual assembly lines
Most of the time, quality control in the assembly stages of products in scale is done by sampling. This generates great uncertainty regarding the manufacturing standard of all parts of the same batch. In addition, human errors are responsible for about 68% of the quality problems in manual assembly lines.
Because of this, companies face several problems. Among them are the high rate of scrapped parts and the large number of defective items that are returned by customers. The result is brand erosion and losses with refunds and eventual damages.
Moreover, it is not only the quality of products that needs attention in manual assembly lines: productivity is another challenge faced by industries. The reason is that the processes at these workstations are performed with little or no control.
The main examples of the lack of monitoring of this type of process are:
long manufacturing cycle times;
poorly optimized workstations.
Another important point is the difficulty in training new or inexperienced employees: one of the causes of errors in product assembly. In addition, untrained employees face more fatigue, and the complexity of the processes becomes greater.
Pathfinder Apollo: the Artificial Intelligence solution to monitor manual assembly
Because of the many challenges faced by industries, Macnica ATD Europe brought to Europe the Pathfinder Apollo solution, developed by Retrocausal. This solution is an Artificial Intelligence platform capable of monitoring repetitive manual workstations in real time. During monitoring, it alerts operators whenever a process error occurs.
The objective of this technology created by Retrocausal is to guarantee the quality of manually assembled products. With it, it is possible to supervise the manufacturing of all products, without having to perform quality control by sampling.
How does the Pathfinder Apollo work?
The Pathfinder Apollo works simply:
A camera is positioned so that it can view the entire workspace of a given operator.

Retrocausal's Artificial Intelligence platform automatically processes the images captured by the camera.

Any flaws in production are identified and indicated to those responsible by means of visual or audible alerts.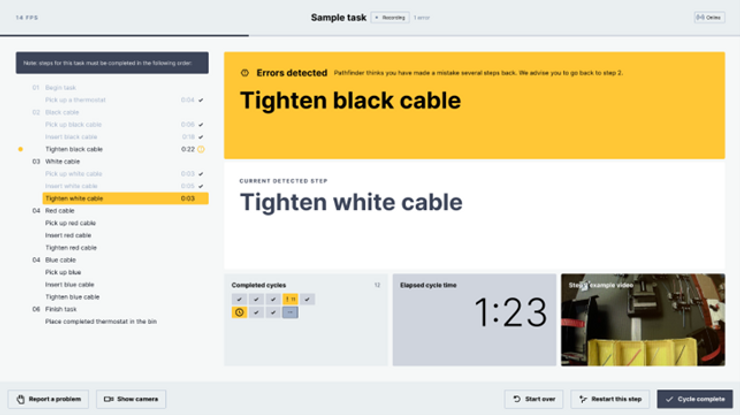 Display shown on Retrocausal's Pathfinder Apollo platform with alerts for the operator. Source: Retrocausal
To be able to identify these failures in production, machine learning is performed on the Pathfinder Apollo system. The tool is trained with images of the sequence of steps that the operator must follow. After that, it can compare what is being executed with what it has learned.
With this, Retrocausal's platform makes it possible:
total and effective quality control in manual assembly processes;

training of new employees in a simple way;

the improvement of the production process through metrics and statistics observed by it.
Even if a defective product reaches the end of the process and an eventual recall occurs, the platform will still be useful. This is because the assembly records identified by the product's serial number ensure that the same error does not happen again.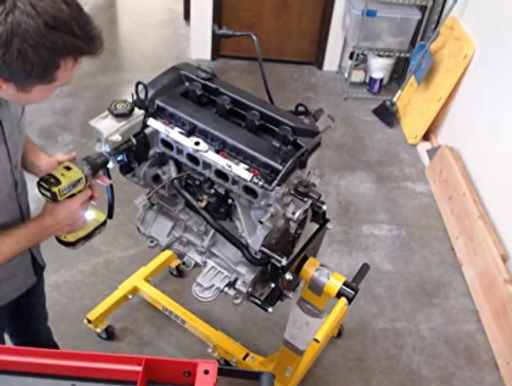 Assembly process of combustion engine peripherals being monitored by Retrocausal's Pathfinder Apollo tool. Source: Retrocausal.
Benefits of using Retrocausal's Artificial Intelligence solution
In general, we can say that the main benefits of Retrocausal's Pathfinder Apollo tool are:
up to 10% increase in production;

60% reduction in assembly quality problems;

44% reduction in training time for new operators;

improved production process through metrics and statistics

greater control and management of activities;

real-time feedback during training and orientation.
Do you have manual manufacturing processes in your company and want to ensure the quality of your manually assembled products? Contact us at marketing.mae@macnica.com to learn about this and other solutions and technologies that Macnica offers for Industry 4.0.