Smart homes will grow by 20% this year
We are living in a technologically connected world, with smart homes, smart cities and many other segments using IoT & AI. According to the Brazilian Association of Residential and Building Automation (Aureside), the use of IoT devices for smart homes should grow by 20% this year.
IoT devices refers, for example, to fridges programmed to notify when some consumer items are running out, temperature sensors that adapt to the residents' daily lives to save energy when no one is home, coffee machines that make coffee at the right time, locks, cameras, vacuum cleaners controlled from distance.
The possibilities are endless, however, developing these connected IoT devices can still be challenging.
Building a cloud platform from scratch is time-consuming and expensive, while using third-party IoT solutions doesn't provide the data security or flexibility needed to build differentiated products.
Therefore, to create smart homes it is necessary to develop complete solutions with IoT devices, cloud processing, data integration – everything that Espressif's ESP RainMaker offers.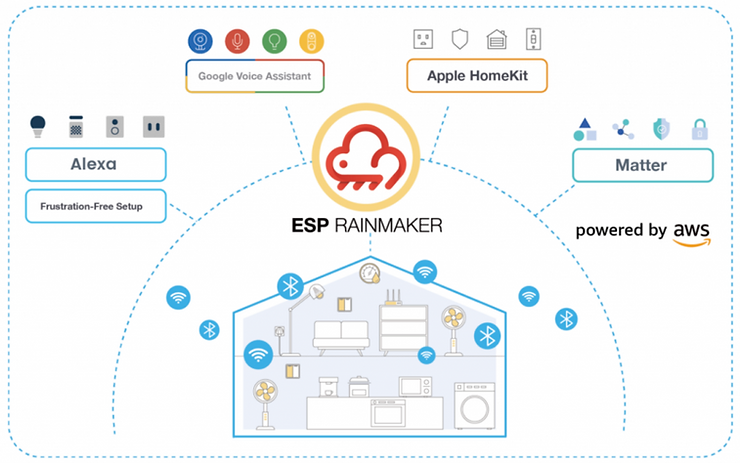 ESP RainMaker. Source: Espressif
Espressif's ESP RainMaker provides a complete yet customizable end-to-end solution for building IoT and AIoT products. Thus, it ensures data security and flexibility to create differentiated products, including:
SoCs and high-performance modules from Espressif;
Full cloud deployment through your own private account;
Out-of-the-box phone apps that support all common smart home scenarios;
Voice assistant integrations such as Alexa and Google Voice Assistant;
And an intuitive admin panel for device management, including OTA updates.
With Espressif's ESP RainMaker, the time to fully build your own AIoT solution is reduced to one week, bringing the reality of smart homes closer and closer.
Learn more about ESP RainMaker in the video:
Contact us at marketing.mae@macnica.com and see how ESP RainMaker can make a difference in your smart home project.