Artificial Intelligence in Manual Assembly Processes
The term Industry 4.0 was first used in 2011 in Germany during the Hannover Fair. Although recent, Industry 4.0 is a reality in much of the manufacturing segment in Europe, Asia and North America. The digitalization of processes, the sensing of machines and equipment and the application of Artificial Intelligence are very common abroad.
However, there is still a part of the European market where the assembly or packaging of products or kits is still done manually. As a result, many industrial managers are asking themselves: how can I make my factory an Industry 4.0, if most of my processes are done by hand?
The answer is: with new technologies, such as Computer Vision and Artificial Intelligence. Learn more about these new tools below.
Artificial Intelligence can optimize manual assembly lines in Industry 4.0
With the advancement of technologies such as Computer Vision and Artificial Intelligence, it is possible to digitize processes that are little or not automated. One of them is the manual assembly line. Now, cameras play the role of physical sensors and advanced software processes the images to extract valuable information, for example.
One of these Artificial Intelligence tools is the Pathfinder Apollo platform, developed by Retrocausal and brought to the European market by Macnica ATD Europe. Without the need for intrusive changes in infrastructure, layout or industrial processes, Retrocausal's tool monitors manual assembly workstations.
Through machine learning, it identifies in real time whether all processes and the sequence of production steps are being followed correctly by the operator. The result is increased quality control of all items produced.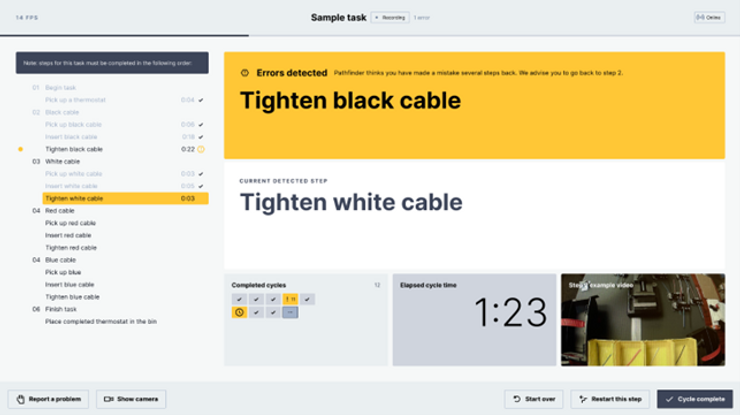 Display shown on Retrocausal's Pathfinder Apollo platform with operator alerts. Source: Retrocausal.
Another function of the platform is the delivery of metrics, such as the time spent in each step and cycle. With this, managers can visualize the steps that present the most errors, identify the points where production is less efficient and propose improvements to optimize processes.
By recording images of each assembly cycle, Retrocausal's system enables quick and accurate responses in the event of a recall. This is done through the assembly records identified by the product serial number. In addition, this feature also allows training new employees more easily and assertively.
The Artificial Intelligence of the Pathfinder Apollo platform also provides real-time support to operators. This helps to increase productivity, without the need to implement conventional industrial automation projects that are often complex and time-consuming.
Retrocausal Artificial Intelligence applications and benefits
Retrocausal's Artificial Intelligence tool can be applied in several segments to optimize manual assembly processes. The main ones are:
automotive industry;

industry of components, electronic equipment and household appliances;

plastic, earthenware or metal construction industry.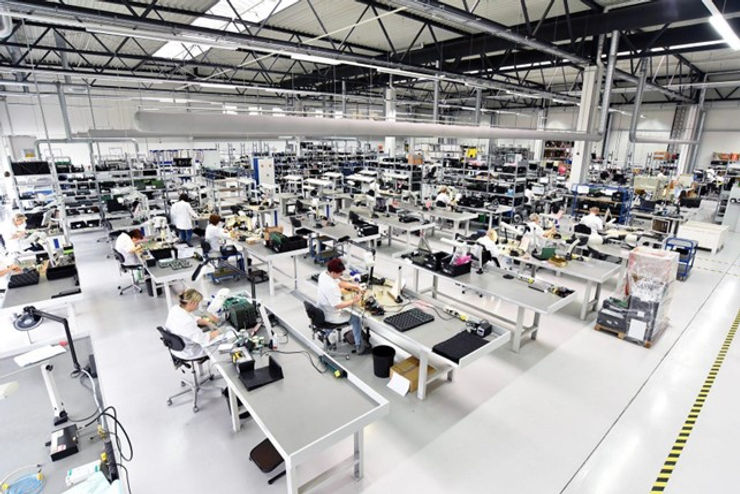 Electronic equipment workstations. Source: Retrocausal.
For these and other industry segments, Retrocausal's Pathfinder Apollo tool brings several benefits, such as:
Up to 10% increase in production;

60% reduction in assembly quality problems;

44% reduction in training time for new operators;

Improvement of the production process through metrics and statistics;

Greater control and management of activities;

Live feedback during training and orientation.
Do you have manual and repetitive manufacturing processes and want to ensure product quality? Contact us