Smart solution for market and supermarket stocks
With the intelligent solution for market and supermarket stocks developed by Macnica and ASUS, establishments will have continuous visibility to meet the demand for stocks of different types of products. This will increase operational efficiency and profitability, reducing waste and facilitating more assertive decisions.
The food business is increasingly competitive. For this reason, markets and supermarkets are increasingly seeking efficiency and quality services.
Nowadays, to ensure that the right quantities of goods are available for the consumer and that they are sold before the end of their useful life, the markets' staff needs to:
conduct periodic checks on the stores' stocks;
evaluate and reassess the condition of perishable products on the shelves;
create strategies to encourage customers to buy products that are reaching the end of their shelf life, to avoid waste.
Relying on an intelligent solution for stock in markets and supermarkets is one of the main points to achieve success in this sector. With these solutions, it is easier to solve problems and automate and streamline processes.
What is an intelligent solution for market and supermarket inventories?
An intelligent solution for market and supermarket inventories is a complete hardware and software system. Among the functions of this system are:
collecting images from video cameras;
use of artificial intelligence to analyze the volume of products on the shelves;
display of data on the computer's dashboard;
issuing alerts when any product is with low volume.
Macnica, for example, has developed an artificial intelligence model[1] that uses the Asus IoT data acquisition system and processing accelerator (GPU). It can identify the type of perishable product and the volume on each shelf. This is made possible through real-time video image processing.
Store management can determine regions of interest for each of the stock monitoring camera units. It is possible to define a fill level limit for each perishable product shelf without barcode. For this, certain parameters are considered, such as: size and average daily sales quantity.
In addition, it is also possible to define which specific levels should generate replenishment alerts for certain products. For example: the threshold level for watermelons can be quite different from the one for bananas. This is because these are larger items that, even in small quantities, fill up a gondola.
With this, artificial intelligence allows markets and supermarkets to implement actions to avoid lost sales due to excess or lack of stock. The assertiveness of decisions increases because they are based on solid data, without the need for manual inspection of the shelves.
To top it off, these solutions are easy to implement in any environment. Configuration to customer-specific requirements takes only a short time.
The Intelligent Market and Supermarket Inventory Solution Dashboard
Why use the intelligent solution for market and supermarket inventories?
Because it optimizes (greatly) the process of replenishing the shelves. When replenishment takes place slowly, customers can run out of products, causing frustration and lost sales opportunities.
Similarly, replenishing products too quickly can also lead to problems, such as having too much of an item on the shelf. This can reduce the quality of the product display, discouraging purchase.
By keeping strategic control of products, it is easier to increase sales and optimize the smart inventory control of perishable goods. This is made even simpler with a smart stock solution for markets and supermarkets.
Electronic label solution for supermarket shelves
The intelligent solution for market and supermarket shelves also helps with another specific task: it makes quick changes to product prices. In this case, artificial intelligence algorithms can once again speed up the processes by using a large amount of acquired data.
This data makes operations more efficient and reduces human resource costs. In addition, automating this function facilitates sales actions. These include product promotions that need to be sold by the end of the day (before their quality is compromised).
For these cases, the intelligent solution for stock in markets and supermarkets performs the following activities:
monitoring the volume of products;
checking electronic labeling on the shelves
updating the value of products, highlighting the discount applied, in case of promotions.
Another advantage of the intelligent solution for market and supermarket stocks is that it always identifies when a shelf is filled with a different product. Through artificial intelligence, the system makes this automatic identification and modifies the product description and its value on the respective electronic label.
Finally, the intelligent solution for market and supermarket stocks provides continuous visibility. This is necessary to meet the demand for stocks of different types of products. The advantages of this are:
increased operational efficiency;
ability to respond quickly
reduced waste
higher profitability;
more assertive decision making.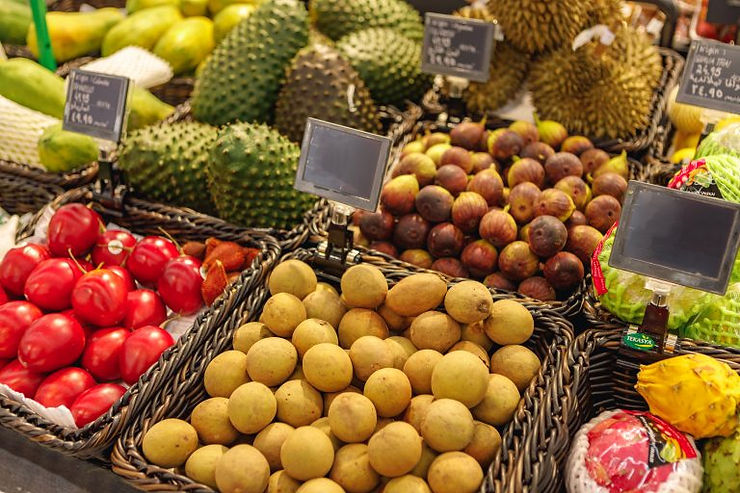 Supermarket with fruit using electronic price tag (ESL).
Discover the solution developed by Macnica and ASUS IoT
Macnica and its partner ASUS IoT have developed an intelligent solution for market and supermarket stocks. This solution intelligently automates processes and performs all the functions mentioned above. Among them is the strategic replenishment of perishable products without barcodes, i.e. fruit, vegetables, sweets, and bread.
ASUS IoT, with the support of its technology partners, develops a variety of state-of-the-art solutions. All of them provide enhanced customer experiences, make in-store operations more efficient, and ensure exceptional supply chain accuracy. The company offers contactless, integrated and customer-centric omnichannel solutions.
Other key ASUS IoT innovations include:
audience analytics;
intelligent signage;;
heat map rendering;
occupancy monitoring;
vending machines;
ATMs;
intelligent systems for delivery service management.
"The partnership between Macnica and ASUS IoT is a perfect example of development and application of cutting-edge technology to impact the various sectors of the economy," highlights the President of Macnica DHW, Fábio Petrassem de Sousa. Among the benefits of the intelligent solution for stocks in markets and supermarkets developed by Macnica in partnership with ASUS IoT, we highlight:
greater operational efficiency;
faster response capacity;
waste reduction;
increased profitability;
decision making based on data.
Want to increase your store's efficiency with our intelligent solution for market and supermarket inventories? Contact us at marketing.mae@macnica.com.